PANJON Cough Drops relieves cough like no other coflet.
PANJON Cough drops are enfused with the goodness of
 Piperment Oil, Pudina Nilgiri Tel ,Shahad & Nimbu Ka Sar.
PANJON Cough Drops is available in 4 nutritious flavours-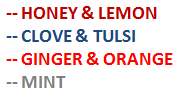 PANJON Cough Drops is beneficial in both productive and dry cough. The peripheral herbs of cough drop reduce the bronchial mucosal irritation.
PANJON Cough Drops's strong formula reduces inflammation in the upper respiratory tract, especially in the pharynx and larynx. In addition, it provides relief from cough of varied etiology. PANJON Cough Drop has 4 refreshing flavours & are available in a pillow-packs.
PANJON Cough Drop offers a never before "relieving & refreshing indulgence".