SWAD DIGESTIVE DROPS
For ordering Swad Candies & Panjon products log on to :
CHAHE JITNA BHI KHAO SWAD SE PACHAO...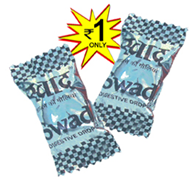 Swad Digestive Drops is a delicious & tingling candy that's fun
to have at any time of the day. And what's more, it is a great treat
to your stomach too ! Swad  is a product that is universally relished
by all people of all ages. Swad's khatta meetha taste is the best way
to enjoy while staying healthy.
This Ayurveda-based candy is purely made of herbal ingredients which give it a unique blend of taste & health. Swad Digestive Drops comes in convenient pillow packs & Swad is the perfect way to complete your daily meal. Over the years Swad has been a proud product of PANJON Ltd. & enjoys a tremendous place in every indian's heart.Swad vividly enjoys the status of a pioneer in digestive candy segment. The success of this product is itself an example for the marketing gurus to study.
Living its most popular slogan-
"Chahe Jitna Bhi Khao ,Swad Se Pachao ",from grandfathers to grandchildren Swad is a family's favourite candy. So, Eat with Taste & Let Swad digest !