SWAD CHATPATI CANDY
For ordering Swad Chapati Digestive Candies, click here:
CHAHE JITNA BHI KHAO SWAD SE PACHAO...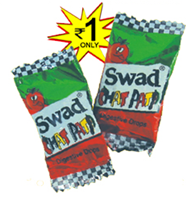 Swad presents its next mouth watering preparation –Swad Chatpati
Swad Chatpati is power packed with digestive & ayurvedic ingredients
which give it an unmatched taste.

Swad brings its all new sweet &  
sour cousin withTom & Imli flavour.  
Swad Chatpati is fun to have with kids & friends.
And what's more, it keeps your digestion toned up !
It's a great way to enjoy while staying healthy !
PANJON's range of Digestives are the perfect way to
complete your daily meal.
Backed by the brand name of Swad, this  
product offers a different variety
for those taste changers whose taste buds always wish to try
newer things. So, Get ready to get your mouth flavoured
with the goodness of Swad Chatpati's khatta meetha taste.