As a complete formulation for instant relief from Headache, Bodyache, Cough & Cold, Flu Fever & Pain PANJON TABLET is the first product of the company. A combination of world renowned pain killers makes PANJON tablet highly effective & trustworthy.
It's versatile utility makes this preparation yet more versatile among various market segments,
having the strength of Paracetamol fortified with Caffeine & Phenylphrine.
PANJON Tablet attacks pain & cold at its roots, and provides instant relief.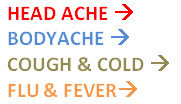 Living its most popular slogan-
"Sir Dard, Badan Dard, Sardi, Jhukam--PANJON ki Tablet lete hi Aaram"
While it has been maintaining its place authoritatively on the basis of its quality.
PANJON Tablet has maintained a strong brand image in front of its competitive
products. PANJON Tablet has been bringing smiles on many suffering faces
worldwide by relieving Pain & fostering Relief.